Smart technology, smarter homes
EXPRESS COMPUTER [June 11, 2007]
Improvements in technology and the massive growth of the Indian economy are leading to a technological life style that is perhaps best exemplified by smart homes.
By Varun Aggarwal
.

You enter your society compound, the security gate scans the number plate of your car and automatically opens to let you in and closes once you are inside. Then you use a smart card to open the front door of your apartment and as soon as you enter, dim lights come on and your favorite music starts playing. Next morning you have to go out for a month's vacation and as soon as you reach the airport, you realize that you have forgotten to switch off the geyser. So you send an SMS to your smart home and all the lights and electrical appliances get switched off automatically.
This is not a description of a scene from a science fiction flick. This is what happens when you're a part of a smart home society. Smart homes that were a fantasy are becoming a reality with tech-savvy builders chipping in to do the needful. Rohan Builders have used the smart home concept from DigiHome solutions at the Rohan Tapovan society in Pune which is targeted at the middle class. The society is completely automated with security infrastructure, a central server for security, entertainment and monitoring. Home owners don't feel the burden of the premium facilities as it is covered in the cost of the apartment for which loans are available.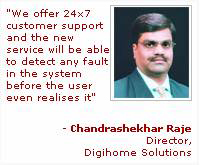 The builder says that he has received a positive response from buyers and that the latter are more than happy to shell out a premium price. In fact he is now planning to implement the digital security features as a standard across all the housing societies that are coming up from his firm.
There are a number of vendors offering varied solutions in the smart home space. While players like Zeos Infotech and GenX home are targeting individual houses, DigiHome Solutions is focused on housing societies.
Though it is conventionally believed that a non-IP device cannot be operated remotely over the internet, in the new digital or smart homes each and every electric or electronic appliance in the house can be turned off or on, remotely. Any electrical appliance can be connected to an electrical interface of the solution, which enables its control access by the central system. The central system can be accessed remotely and thus control any electrical appliance. Chandrashekhar Raje, Director, DigiHome Solutions claims, "As long as the power load is pre-determined, any number of appliances can be added to the system."
Securing homes digitally
The smart home is not just automated but also secure. Only a valid smart card holder can open the front door. In case of forced entry, the owner is alerted through SMS, e-mail or even a phone call. The security person at the gate is also informed automatically. On making a valid entry inside the house, a welcome greeting message is given. It switches on desired lights, fans, etc. based on the user profile. Raje explains, "A visitor wishing to enter the premises and standing in front of the window at the security gate will face a camera fixed there that will take his picture. A security person will send that picture to the concerned flat through a single key operation. The Flat owner gets a beep and is able to view this image on the LCD display of the DigitalHome server box. The owner may convey a message to let the visitor in or deny the request to the security person. Photos of all the visitors are stored in the device or computer at the security gate for records."
In case of an intrusion or any other emergency, the owner immediately receives an SMS or an e-mail anywhere in the world saying something on the lines of 'Unauthorized door open detected, at Flat No: B103' or 'LPG leakage is detected in your apartment, at Flat No: B103'.
Limitations
The biggest limitation to the propagation of this concept in India is the cost factor. Digital homes are perceived to be expensive and only for the rich. However, depending on your budget you can get some aspect of automation and connectivity at a low cost. As the acceptability of the concept increases in the country, prices will come down, further boosting sales and increasing the growth rate.
In a country where many people are computer phobic, just the mention of the term automation gives them nightmares. As most automation products are usually complex, elderly people prefer to stay away from these. Children are the most enthusiastic lot as the new generation of children knows more about technology than any one in their family. So in case you're facing problems in understanding as to how to operate your 'easy to operate' home automation system, ask your kid for an in-depth tutorial.
Apart from the costs, another reason restraining users from embracing this advanced feature is the reliability of the product. Everyone wants the assurance before making an investment of as much four lakhs for a better life. Since this market is still nascent and might take some time to mature, better customer support is required to attract customers. Solution providers are coming up with intelligent applications which inform them about a fault even before the customer gets to know about it. Raje adds, "We offer 24x7 customer support and the new service will be able to detect any fault in the system before the user even realizes it."
Internationally there exist standards like INSTEON, X10, Universal power line bus, KNX (standard), UPnP, ZigBee and Z-Wave for smart homes. However, since the smart home market hasn't matured to that extent in India, we do not see this happening here. In the absence of smart homes or connected home standards in India, the various smart home solutions offered by different vendors use different protocols. This means that if you like some part of the solution from a different vendor, you may not be able to install it in your home unless you get the entire solution from that vendor.
Currently most of the appliances in India are non-IP and do not understand or support the concept of domotics which makes it difficult to add new appliances in the current smart home setup. Once standards are implemented in India, the smart devices would become plug-and-play to your smart home setup, making customization simpler and swifter.
What it costs
Although the starting cost of automation is relatively low, you still need to spend quite a lot for a completely automated house with proper security in place. As of now, smart home systems are lifestyle products. It may take some time before they become a necessity, at least in India. If cost is an issue for you, then to start with you can go for a remote controller to change the mood of the lighting which would cost you Rs 300. If you have multiple computers or notebooks at home, then a wireless router would help you stay connected anywhere in the house. This would cost another Rs 4,000.
For IP surveillance, a wireless IP camera costs about Rs 8,700. However, the real automation will still cost you at least Rs 40,000 to 1 lakh. Furthermore the highly advance features like remote access and surveillance with all possible automation features come at a cost of Rs 3-4 lakhs.
Manish Uppal, MD, Uppal Housing opines, "We feel that a lot of luxury housing projects will be willing to pay a premium for this concept as today everybody is looking for a house which has an automated security system plus by automating the entire house there can be a large amount of energy saving as a result of efficient air-conditioning, lighting etc."
The future
There is a seamless scope for new developments in the area of home automation and intelligence. Vendors claim that they can offer you anything that you can imagine, though at a premium cost. The new generation of smart homes would not only be able to sense the presence of a person in the room, but also be able to recognize that person and set the lights accordingly. Once the refrigerator can keep track of what's in it, it will automatically send requests to the nearby grocery shop, which will have Internet connectivity to access the request. Of course, if a refrigerator wants to send this information, it has to have some way of scanning the bar code on, say, a milk tetra pack.
Smart home features
Wi-Fi connectivity
PC, Laptop and other Wi-Fi enabled devices shall use this network and can also be made to communicate with the DigitalHome server using Wi-Fi connectivity. A user can use his laptop anywhere in the house and browse the Internet without needing to be plugged in. Broadband connectivity of 128Kbps at the back end shall be provided to each home for fast access to the Internet.
Universal Phone
This phone shall replace a standard PSTN phone instrument. All calls on the landline will be diverted on this phone. This phone shall work as a cordless phone and can be used anywhere in the home. In case of hotspots availability in the society campus, it can be used in the campus too. This phone shall work on Wi-Fi connectivity.
Single button emergency call
An emergency call (or send SMS) can be made using this single button device and wireless pendent. Since it may not require conversation, this is just a panic button and will make the call automatically.
Digital Answering Machine with personal voice message boxes
The DigitalHome server shall also work as answering machine. Each family member may have a separate voice message inbox. It shall store voice mail from callers in the respective user's inbox.
Smart Card based access to home
A valid smart card holder shall have access to the front door. In case of any forced entry, the owner is made alert by sending SMS, e-mail or even through a phone call. The security person at the gate is also informed automatically.
On making a valid entry inside the house, a welcome greeting will be given. The system will then switch on desired lights, fans, etc.
Main gate security and visitor tracking system
A camera fixed at the security gate takes the visitor's snap. The security person sends it to the concerned flat owner with a single key operation. The owner gets a beep and is able to view this image on the LCD display of the DigitalHome server box and he can convey a message to let the visitor in or to deny that person access. The photo images of all the visitors are stored in the device or computer at the security gate for records.
Stand-alone Video surveillance
The Server box also handles video surveillance. A camera is fixed at the main door of a flat takes images of a person standing at the door and it is viewed on the LCD display of the server box.
Keeping visitor's log when the DigitalHome is locked
When a visitor rings a bell while the main door is locked, a camera takes a snap of the visitor and stores in DigitalHome server along with time. This image shall also be sent (optional) by e-mail to the owner. One can find out who all had come to their residence in their absence.
Event tracking
A set of event shall be entered once in the server box. It will display reminders as well as voice messages. It shall provide greeting on occasions like birthdays and anniversaries.
VoIP phone
A server box shall provide a simple and easy way to connect to international phone numbers and chat with the near and dear ones. A universal phone of DigitalHome shall be used to make international calls.
Receiving SMS without owning a mobile phone
A server can receive a SMS from anywhere and display on its LCD display. That means that you can receive an SMS without even having a mobile phone at home. The Incoming SMS service is free. One can send SMSes to home and pass on messages in this manner.
Video surveillance
To know the whereabouts of children playing in the play area/park, a set of cameras shall be fixed at various places and display the view on the LCD display of the server. There shall be option to select a particular camera.
Music and Videos
The server is MP3 enabled that allows playing MP3 music on a TV or music system. A music system shall be connected to the server. Movies can be viewed on TV. This option is more suitable in the common music/video library environment.
Switching on/off lights, fans
Controlling lights and fans remotely is made possible using the server. Switch on/off lights, Water heater, AC while one is in the other room, as well as while going out of house or coming into the house. This control can also be done remotely even from the office through the Internet or by SMS. While leaving the house, all appliances can be switched off automatically.
Fire alarm
The server shall also raise an alarm and send messages to the concerned people in case of fire. The fire detection devices are connected to the server.

Source: Rohan Tapovan Society, Pune
Original article at:
http://www.expresscomputeronline.com/20070611/technology01.shtml